Fastest VPNs of 2019 – Our top 5 for speed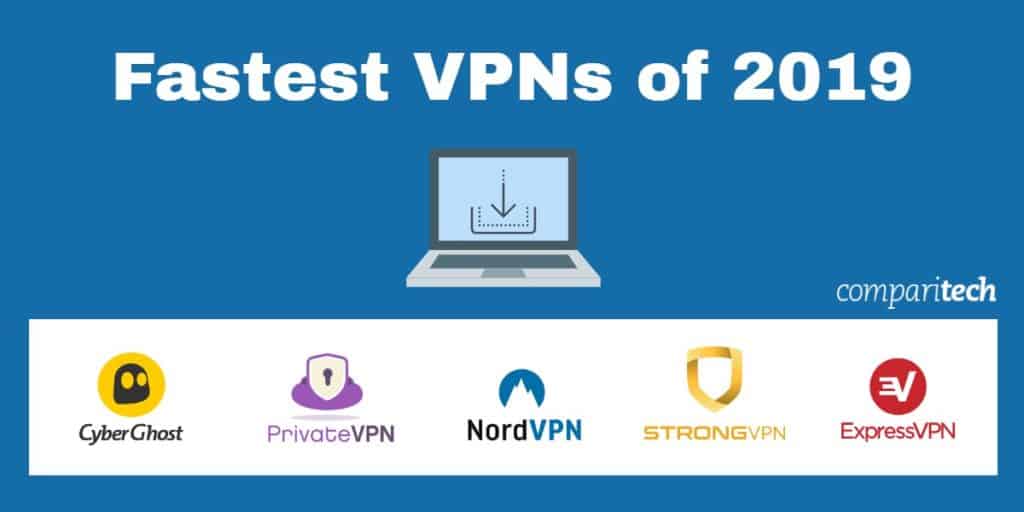 A VPN's primary purpose is to ensure privacy and security online, but no one wants to compromise speed. High speed is always a top priority for those shopping for a VPN service, and many providers have laid claim to the title of the world's fastest VPN.
All VPNs slow down your internet to some degree, some much more than others. It's a sacrifice you make for a more private and secure internet connection or for streaming your favorite shows from any location. We'll show you the fastest VPNs along with a few tricks to maximize your speed that won't cost you anything.
We'll go into detail about how we test VPN speeds and the merits of individual providers. However, if you are just looking for a list of recommended fast VPNs, we have summarized our top picks here:
Fastest VPNs 2019
Below we've listed our top five fastest VPNs tested in the last year, out of a total of nearly two dozen premium providers. Speed tests we run factor largely into this list, but other non-quantifiable parameters based on our personal experience are also taken into consideration. These include how well they stream HD video and game online.
CyberGhost tops the list of fastest VPNs with an average download speed of 75 Mbps across all locations and times tested. If you have high speed internet and want to make the most of it, this is the VPN for you. CyberGhost is also the only VPN to earn a perfect score in our annual privacy and security assessment. It allows you to easily unblock geographically restricted content like Netflix and BBC iPlayer by choosing the streaming service you want to watch right from the app interface. The apps are easy to use, and the price is budget-friendly.
Apps are available for Windows, MacOS, iOS, Android, and Amazon Fire TV. You may connect up to seven devices at a time.
Pros:
Fastest VPN
7 simultaneous connections
Unblocks Netflix and other streaming sites
Great security and privacy
45-day money-back guarantee
Cons:
Doesn't work well in China
FASTEST VPN:CyberGhost is the fastest VPN we've reviewed and it comes with a 45-day money-back guarantee.
Read our full CyberGhost review.
---
PrivateVPN is punching above its weight class and earning its place among the best VPN providers around. It's the second-fastest VPN we tested after CyberGhost and the only other one fast enough to stream ultra HD video. It's also competitive when it comes to security, design, and ability to unblock content from abroad like Netflix and Hulu.
Apps are available for Windows, MacOS, iOS, Android, and Amazon Fire TV. You can connect up to six devices at a time.
Pros:
Very fast
Unblocks streaming sites like Netflix from abroad
Good security and no logs
Easy to use
Cons:
Smaller server network than others
UNBLOCK AND STREAM:PrivateVPN lets you watch high-quality video from abroad and comes with a 30-day money-back guarantee.
Read our full review of PrivateVPN.
---
NordVPN is a veteran VPN provider with a huge network of more than 5,000 servers globally, and yet it's been able to maintain high speeds for its users. It's great for streaming HD video from a wide range of sources including Netflix, BBC iPlayer, Amazon Prime Video, and Hulu. It boasts a zero-logs policy and strong encryption to keep your data private.
Apps are available for Windows MacOS, iOS, Android, Amazon Fire TV, and Linux. You can connect up to six devices at a time.
Pros:
Fast speeds
5,000+ servers globally
Unblocks Netflix and other streaming sites
Zero logs policy
Cons:
Automatic server selection isn't always reliable
FAST AND AFFORDABLE:NordVPN is a fast all-around VPN for unblocking content and improved privacy. Includes a 30-day money-back guarantee.
Read our full review of NordVPN.
---
StrongVPN actually surprised us when conducting our speed tests and scored above average overall. Just as it was starting to show its age, an app redesign and fast servers have brought it back into the limelight. It's not the best for unblocking streaming content, but it will keep you safe and your online activity private.
Apps are available for Windows, MacOS, iOS, and Android.
Pros:
Easy to use apps
Above average speed
Works in China
No logs
Cons:
Lacks manual setup support
Relatively few server locations
FAST AND EASY:StrongVPN is super simple to use and faster than the average VPN. Comes with a 30-day money-back guarantee.
Read our full review of StrongVPN.
---
While its US server speeds were about average, ExpressVPN excelled when it comes to international connections. If you want to stream or download from a source in Asia or Europe, for example, it's a great option. ExpressVPN unblocks several countries' Netflix libraries as well as Hulu, HBO, Amazon Prime Video, and BBC iPlayer.
Apps are available for Windows, MacOS, iOS, Android, Linux, Amazon Fire TV, and certain wifi routers.
Pros:
Fast international connections
Great security
Unblocks Netflix and many other streaming sources
24/7 live chat support
Cons:
Only 3 connections allowed at once
A little more expensive than rivals
GOOD ALL-ROUNDER:If you want a fast VPN that just works with everything out of the box, try ExpressVPN and get a 30-day money-back guarantee.
Read our full ExpressVPN review.
VPN speed test results 2019
We measure the download speeds of VPNs on a gigabit ethernet connection in North America. We connect the VPN to three different locations—United States, United Kingdom, and Hong Kong—at three different times per day, and at minimum four hours apart. The Windows versions of each VPN's apps are configured to use the OpenVPN over UDP protocol. We averaged the download speed from these nine tests to come up with the following results:
We do not test latency, as this is more an indicator of our proximity to the server than the VPN's available bandwidth. We also do not test upload speed.
We always advise readers to take speed tests with a big grain of salt. Too many variables are at play. And we've also stated as clearly as possible, there is no such thing as the "fastest VPN," no matter how many companies make such a claim.
VPN speed is one of the most difficult factors to accurately quantify because we can't test every server in every location every hour. We always run speed tests as empirically as possible when we review a VPN provider, but the fact of the matter is that the fastest VPN for where you live is not necessarily the fastest VPN for where I live. The fastest VPN for streaming video might not be the speediest for online gaming. Even the fastest VPN service at noon probably isn't the quickest at midnight.
How to choose the fastest VPN server
You can choose the fastest VPN from any VPN provider based on the following criteria:
Proximity: Choosing a server close to your own location will result in a speedier connection. If you're in Asia and want to access American content, then choose a server on the west coast USA. If you're in Europe, then use an East Coast server. If you know the location of the server hosting the content you're trying to access, you can also choose a VPN server near there.
Latency: This is closely tied to proximity, but is also affected by the amount of traffic on the networks between you and the VPN server. Latency measures the time it takes to send and receive a request from a server, also called ping time. Many VPN apps will allow you to see which server offer the least latency, usually measured in milliseconds. If not, you can connect to the server and use a terminal or command prompt to ping a website and view the time.
Server load: A few VPNs, such as IPVanish and NordVPN, allow you to see the current load of VPN servers as a percentage of their total capacity. A higher server load means more traffic and slower connections.
VPN protocol: We always recommend users avail of OpenVPN when available, as it is the most secure and open-source protocol available. You may, however, opt for a speedier protocol. IKEv2 is secure and works well especially with mobile data connections. You might or might not notice a difference with L2TP/IPSec or SSTP, depending on your device hardware. PPTP is generally regarded as the fastest, but has known security flaws that make it unsuitable for anyone who values their privacy.
Choosing the fastest server for gaming
If you're an online gamer who uses a VPN to access another region's servers (or because you got IP banned), the most important factor in choosing a VPN is latency. The ping time between the game servers and your computer or console is mostly what determines how much lag you'll experience. If you want to stay competitive, figure out where the game's regional servers are hosted and choose the nearest VPN server.
Download rate is also important, but gaming requires less bandwidth than you might think. The first priority should always be reducing latency.
Peak versus average speed
In the 2017 State of the Internet report from Akamai, the global average peak connection speed is 44.6 Mbps, but the global average internet connection speed–not peak–is a mere 7.2 Mbps. That's just one-sixth of the peak average. So what does this mean for VPN providers?
We all share the internet, and we can't all get the maximum speed advertised by our ISPs every second of every day. Network congestion plays a huge role in your download speed both on and off the VPN, but it's twice as likely to take a toll when connected to a VPN.
When you download a file from a server without a VPN, there's a chance you will encounter network congestion, most likely on your nearby ISP network or at the download server itself. When you use a VPN service, you add a third potential bottleneck to the route. Whether because of server load or congestion on the network surrounding the server, there's a higher chance that your speed will be affected while connected to a VPN.
When choosing a VPN server, take these factors into consideration. VPNs are subject to the same peak-versus-average conundrum as everyone else. If possible, choose a VPN server in a time zone that's in off-peak hours. Some VPN apps have built in speed tests or show the current server load in real time, which can give you an indication of whether you'll be able to max out your allotted download speed.
Security versus speed
Adding security to a VPN connection inevitably results in a loss of speed. Using a stronger encryption algorithm, for example, means it takes longer to encrypt data travelling through the VPN and longer to decrypt it once it arrives at its destination. Similarly, more secure VPN protocols tend to be slower than less secure ones. PPTP, despite being the oldest protocol, is still significantly faster than OpenVPN or L2TP/IPSec. However, it also has known security vulnerabilities.
You don't necessarily need the strongest available security all the time when using a VPN, but there's a line that shouldn't be crossed in order to increase speed. We recommend against using PPTP and advise readers to opt for a protocol that uses SSL (OpenVPN) or IPSec encryption (L2TP, IKEv2).
Most VPN providers don't give you the option, anyway, but don't disable encryptionaltogether. Additionally, 128-bit AES is the minimum strength encryption necessary for a VPN to do its job and keep your data safe. It's effectively un-crackable and is slightly faster than 256-bit AES, which is also common. A handful of VPNs use Blowfish encryption, which tends to be slower than its AES counterpart. We recommend at least 448-bit Blowfish encryption if you go that route.
How much of a speed boost you'll get out of tweaking encryption and VPN protocols depends on your hardware. More powerful devices will be able to encrypt and decrypt data more quickly.
UDP versus TCP
When using the OpenVPN protocol, many VPN apps will give you the option of using either the TCP or UDP protocol. TCP is the protocol that you normally use to browse the web and download files. UDP is more common for streaming applications such as video, music, and gaming. The difference is in how computers and servers send network packets, the unit of data used to exchange information over the internet.
A common misconception is that UDP is always faster than TCP. While this is often the case, it's more of a guideline than a rule.
TCP uses error protection and guaranteed delivery to ensure that every data packet is identical to the original and sent in the correct order. If there is an error, the flow of internet traffic is stopped until the previous packets are sent successfully. This is important if you're downloading a file or loading a web page.
UDP doesn't have these protections. Collisions, errors, and missing packets are all common, and sometimes packets arrive out of order. The emphasis is on speed, not being perfect. It is preferable to miss a packet than delay all of the other packets following it.
So, if you use your VPN primarily for online gaming, streaming video, or listening to music, then switch to UDP. Otherwise, stick to TCP.
Stability trumps speed
In our humble opinion, the primary performance factor when choosing a VPN service shouldn't be speed. It should be stability. More often than not, it's volatility that brings down test scores rather than a slower overall download rate.
Every VPN will occasionally have a bad day or just a few bad hours where service is slow on a particular server or set of servers. Some VPNs have more high traffic periods or downtime than others. These are the ones to be avoided. Unfortunately, the test period for our reviews rarely lasts more than two weeks, so it's difficult to predict what VPNs will encounter more issues in the long term at the time of writing.
That being said, the boxplot below (from some older tests) can give some indication of how volatile a VPN's performance is. A larger blue box means more volatility, even if the mean (red dot) and median (thick black line) download times are low, a lot of volatility will probably cause more frustration than a slightly slower connection.
Unless you're on a fast (100+Mbps) internet connection, the chances of maxing out the bandwidth available is pretty slim. Almost all VPNs these days advertise unlimited bandwidth.
Speed shouldn't be your only consideration when choosing a VPN. Depending on what you plan to use it for, you may want a VPN that's best for torrenting or unblocking Netflix or gaming. Those aren't necessarily the fastest, and they don't need to be. They just have to be fast enough.
VPN alternatives
VPNs secure your traffic and route it through an intermediary server so it can't be traced. But if privacy is not of chief concern to you, then there are other alternative proxy methods that offer faster speed. A SOCKS proxy, for example, does pretty much the same thing as a VPN without the encryption. Without having to encrypt and decrypt traffic, SOCKS proxy users can get faster speeds and still mask their IP address.
Read more: SOCKS5 Proxy vs VPN – What's the difference? Which should you use?
Then there's smart DNS proxies. These proxies only re-route your DNS requests to make it appear as though you are in a different location, rather than all of a device's traffic. This means you still get the full benefit of a direct internet connection, but not the privacy or security of a VPN.
We recommend against using any so-called free VPN. Free VPN services tend to be significantly slower than their premium counterparts. Their servers are usually congested and the apps often impose bandwidth limits or data caps. Server selection is more limited as well. Besides speed, free VPNs often use shady practices to make money, such as collecting your browsing data to sell to third parties and injecting ads into browsers. Some even carry malware payloads to infect your device.
Avoid "speed boosters"
Some Android apps, iOS apps, and desktop browser extensions claim they can speed up your VPN connection. These are almost undoubtedly scams.
There is simply no way for a third-party app to increase the speed of your VPN connection beyond what we've outlined above, especially not for free. More likely, these apps are used to mine your data or serve ads.
The closest you might get to a real speed booster is to subscribe to an optimized gaming network, which ensures that your internet traffic is taking the shortest and least-congested route available to give you a better ping time. But these are paid subscription services, not free apps, and even then their effectiveness is questionable.
Source: Comparitech